Get EQUIPPED: Redemptively Overcoming Abortion in the Church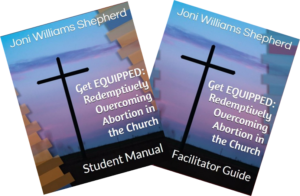 The church in general has not done the best job in the past in addressing pregnancy and abortion. Many women and their partners have secretly sought abortion because the church did not feel safe or they did not feel they had the resources to give birth and parent a child. This, no doubt, contributes to the fact that the majority of abortions done on women who identify with the Christian faith. Get EQUIPPED is the course that every pastor and congregation needs to effectively make the paradigm shift that is drastically needed to overcome abortion in the church and local community. Instead of trying to save the babies by changing laws, our greatest focus as the church must be on changing hearts. While standing up politically for the rights of the unborn is also essential, it cannot be the church's greatest aim. The enemy is doing his greatest work in the church and among Christianity. That is where we need to re-strategize and begin fighting the battle within the church.
Get EQUIPPED will provide both pastor and church member with the information they need to deepen their understanding of God's Design, Mankind's Perversion, and The Church's Choice. We will delve into God's design and purpose of the human body, and His Word on sex and life. Then we will learn our American history of the "bait and switch" of immorality, the trauma of abortion on women, and then abortion's collateral damage to literally everyone. Finally, we will learn about the choices the church has. Will we become proactive and redemptive or remain reactive and silent? Will we respond from God's heart or our own desperation to overcome this evil in the world? Will we defend or demolish the false arguments?
This book is deeply informative and highly motivating to make the changes that are needed in our churches. Then, we can address these difficult issues in the world with integrity instead of hypocrisy. This book is in conjunction with a video teaching series in an online learning platform. For more information, please go to HopeAndGraceGlobal.org.
AVAILABLE ON AMAZON:
Student Manual: $15.99
Facilitator Guide: $15.99
Memoirs of a Christian Who Chose Abortion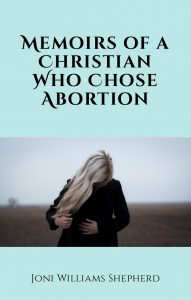 How does a Christian get into a situation in which choosing abortion seems reasonable? How can an abortion effect a person's life over the long haul?
Joni unpacks her story in brutal honesty beginning with her happy childhood in a conservative Christian home, then delves into the uncertainties of unwed pregnancy as a young adult, humiliating judgment from the church, and the darkness of abortion. She peels back the myriad of layers...LEARN MORE
AVAILABLE ON AMAZON:
Kindle Version - Newly Released: $3.99
Paperback - Now Available: $6.99
Why Can't We Say the "A" Word in Church? Overcoming Our Dirtiest Secret with Hope and Grace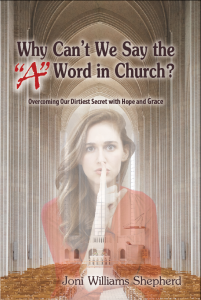 In this groundbreaking and prophetic book Joni Shepherd raises a call to the Church, and particularly to those in spiritual authority, to break the chains of silence and shame that have bound the victims of one of modern history's greatest moral catastrophes, abortion...She includes the dramatic personal stories...This is a roadmap for how you, no matter your role in your local church, can truly help your church become the "hospital for sinners" that Jesus meant it to be (Mt. 9:12)  LEARN MORE 
AVAILABLE ON AMAZON: Kindle Version (Releasing Soon) - $8.99, Paperback - Available Now! - $14.99
Suggested Products on Other Sites