Memoirs of a Christian Who Chose Abortion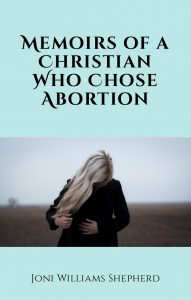 How does a Christian get into a situation in which choosing abortion seems reasonable? How can an abortion effect a person's life over the long haul?
Joni unpacks her story in brutal honesty beginning with her happy childhood in a conservative Christian home, then delves into the uncertainties of unwed pregnancy as a young adult, humiliating judgment from the church, and the darkness of abortion. She peels back the myriad of layers...LEARN MORE
AVAILABLE ON AMAZON:
Kindle Version - Newly Released: $3.99
Paperback - Now Available: $6.99
Why Can't We Say the "A" Word in Church? Overcoming Our Dirtiest Secret with Hope and Grace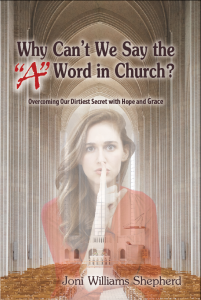 In this groundbreaking and prophetic book Joni Shepherd raises a call to the Church, and particularly to those in spiritual authority, to break the chains of silence and shame that have bound the victims of one of modern history's greatest moral catastrophes, abortion...She includes the dramatic personal stories...This is a roadmap for how you, no matter your role in your local church, can truly help your church become the "hospital for sinners" that Jesus meant it to be (Mt. 9:12)  LEARN MORE 
AVAILABLE ON AMAZON: Kindle Version (Releasing Soon) - $8.99, Paperback - Available Now! - $14.99
Products Available for a Minimum Donation
Please Note:  All donations are tax-deductible under Internal Revenue Code Section 501(c)(3), less the cost of any item received for your donation.
Secret Sin: When God's People Choose Abortion
Secret Sin: When God's People Choose Abortion was written because abortion is one of the last great secret sins that remains "in the closet." And because the majority of the church is unaware of the magnitude of this secret sin or how it affects those it touches, little is done to help those suffering silently in their midst to find healing in Christ. This book pulls back the curtain giving those within the church an inside look into the world of the post-abortive Christian with the intent of spurring them on to begin reaching out to these hurting people with the compassion of Christ.
For a suggested donation of $10 or more, includes shipping.
Complications: Abortion's Impact on Women
Rigorously researched and scientifically documented, Complications: Abortion's Impact on Women examines the role of abortion in almost every aspect of women's health: depression, infertility, autoimmune disease, cancer, and intimate partner violence, to name a few. Each of the 21 chapters explores an issue in depth, thoroughly examining published studies from across the globe to find the common threads that might be missed otherwise.  Any woman with an abortion in the past or who might be contemplating one needs to read this book.
For a suggested donation of $25 or more, includes shipping.
Only 17 left available!
Suggested Products on Other Sites